Anti-Spam Policy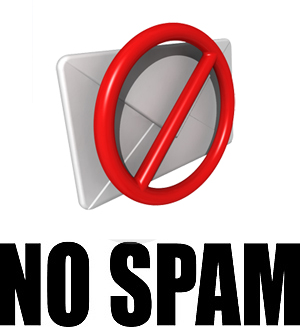 SpiderWeave.com is committed to a ZERO-TOLERANCE, Anti-Spamming policy. Under this policy, we Prohibit All Spam, and / or any unsolicited commercial email, from being sent either: Over the SpiderWeave.com Hosting network, by customers or any other users of the SpiderWeave.com Hosting network (including our customers' customers); AND/OR over ANY network— if the message sent advertises or mentions a site hosted on the SpiderWeave.com Hosting server. We also prohibit the selling or installing of products that can be used for spamming.
We react quickly and seriously to any violations of this policy with IMMEDIATE SUSPENSION of the domain in question, and we further reserve the right to terminate without refund the services of a domain, without prior notice. We are constantly running email checks monitoring the amount of emails all accounts send out to prevent a spammer from sending out large amounts of email. In addition all new accounts go through a undetermined monitoring period of all scripts and all email lists. All email sending forms are also prohibited from being installed on our network with out the direct authorization of our Support Team. If a domain found to be using an unauthorized email script or program the domain will be immediately until direct phone contact is made with the domain owner and the script is removed.
If you have any complaints or comments regarding Spam on our network, please direct them via email to support@spiderweave.com
SpiderWeave.com and Treblow Enterprises Inc. reserve the right to amend or change policies with out notice.