SSD Servers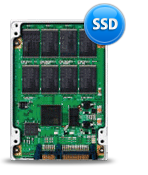 Solid State technology! SSD takes what was previously considered High Performance in Cloud Hosting and turns it on its head with the litany of advantages that come with solid state technology.  SSD is designed to maximize performance by loading fast, performing rapid queries and creating a low server load. By doing this we have virtually eliminated the "bottleneck" effect of inbound and outbound data.
Unlock Your Server's Potential with SSD
In conjunction with the enhanced I/O speeds, these performance features combine to afford our users a previously unavailable level of efficiency. The outcome of this marriage of High Performance hardware and Cloud Hosting technology is a new breed of hosting environments, custom designed for the highest level of performance when utilizing frequently accessed information, large read-intensive databases, and any other enterprise application in which the lightning fast read/write speeds of Storm SSD could be unleashed.
| | | | | |
| --- | --- | --- | --- | --- |
| Size | Ram | Disk | CPU | Cost |
| 3GB | 2.7GB | 35GB | 1 | $150/month |
| 6GB | 5.4GB | 70GB | 2 | $260/month |
| 12GB | 10.9GB | 140GB | 4 | $525/month |
| 32GB | 31.1GB | 175GB | 6 | $675/month |
| 64GB | 62.2GB | 350GB | 12 | $1,275/month |
| 128GB | 121.6GB | 565GB | 16 | $1,875/month |
| 256GB | 244.1GB | 750GB | 64 | $2,250/month |